Who we are
NAVYA is a leading French name for self-driving solutions. With 280
employees in France (Paris and Lyon) and in the United States (Michigan).
NAVYA delivers proven self-driving solutions for B2B partners to reshape their
transportation systems, for passengers or goods.
The people behind NAVYA
At NAVYA, we are passionate both about mobility's challenges and new
technology. With the development of our autonomous driving systems, day
after day we are revolutionizing the idea of mobility in cities and on private
sites.
CEO
We believe in artificial intelligence, but we believe even more in the intelligence of humans.
R&D Engineer
It's really exciting working on tomorrow's
technologies!
Supervision Customer Project Manager
Ensure the proper operation of vehicles every day.
Senior HR Business Partner
Constantly looking for new talents.
The company
Created in 2014, NAVYA specializes in developing autonomous driving systems. The fully autonomous, driverless, and electric AUTONOM® SHUTTLE was launched in September 2015 as a first and last mile passenger transport solution.
Plants: Vénissieux, France & Saline, US.
Employees, of which 120+ engineers and technology experts.
Countries with authorization to drive on public roads.
Self-driving shuttles sold in 20 countries.
Our manifesto
Because we stand for visionaries.
NAVYA is a French leader in self-driving solutions, working in synergy with B2B partners to reshape their transportation systems, for passengers or goods.
Because we believe in human intelligence & high technology.
NAVYA's self-driving expertise comes to reality thanks to its 120+ engineers and technology experts. From designing to engineering and finally optimizing tailor-made self-driving solutions, Navya meets and adapts to each client's need, in full collaboration.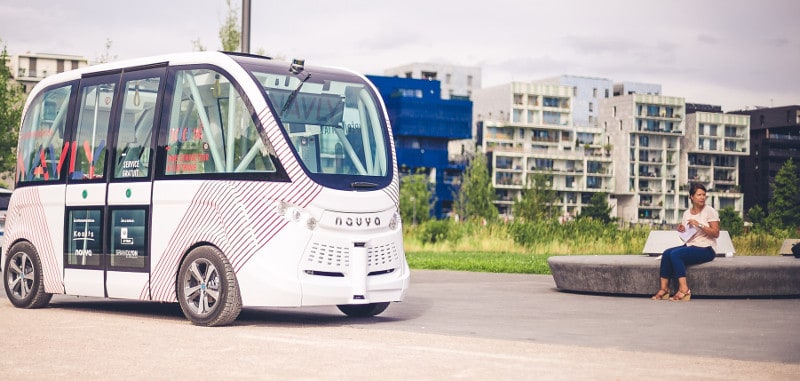 Because autonomy rhymes with opportunity.
NAVYA has been the first to market and put into service self-driving solutions. A unique expertise and operational experience, to optimize existing transportation systems and reshape the future with a safe, profitable and efficient mobility.
Because we are stronger together.
NAVYA's success lies in its worldwide ecosystem of clients & partners who have trusted the company for 6 years. With them, Navya makes self-driving solutions a reality today, to reinvent the transportations systems of tomorrow.